Party Like a Rock Star? No, Party Like a Chef!
May 9th, 2015
The waiting seemed to go on forever, but it finally happened. The James Beard Awards, celebrating its 25th year, came to Chicago on May 4th, granting the Chicago culinary community the national recognition it has long deserved.
With gobs of pre and post parties, the core festivities for the awards, often dubbed the Oscars of the culinary world, really started early in the morning on May 3rd with an insane amount of food, drink and joy. This continued into the early morning of May 5th, with some people probably still partying as I write.
With trusty iPhone in hand, I was able to attend 10 parties in 38 hours to ask many of Chicago's best chefs their take on having The James Beard Awards in, as Mayor Emanuel put it from the May 4th red carpet, "The culinary capital of America." Here is what they had to say in between bites and sips and smiles.

A James Beard cookie from Purple Pig and just part of the spread from Tete Charcuterie.
"The James Beard Awards in Chicago show the diversity outside of New York City," Bruce Sherman, Executive Chef of North Pond and previous James Beard Award winner told me at a pre-party on May 3rd.
Shining a national spotlight on Chicago chefs was, of course, a highlight of having the awards in Chicago. "The success of my career has been built on meeting other chefs," Paul Kahan, three-time James Beard Award winner and Executive Chef at Blackbird, avec, Publican and more, explained during a wall-to-wall welcome party at SoHo House. "There is such inspiration in Chicago. The JBF Awards call attention to the talented chefs in this city."
I added that this also meant that a lot of chefs and restaurateurs who hadn't been to Chicago before would be coming for the first time to take note. "F'n A!" he said.
A big theme among the chefs was how the ceremony in Chicago was different from those in New York because Chicagoans are so open and inviting. "This weekend visiting chefs are experiencing Midwestern hospitality!" an exuberant Rick Bayless exclaimed on the red carpet. "We are every bit as good as other cities and we are showing that this weekend!"

Nominees Chef Carrie Nahabedian (semi-finalist) and Chef Paul Virant (finalist)
"I feel humbled and excited at the same time," a thoughtful and gracious Rich Melman of Lettuce Entertain You Enterprises said about getting the Lifetime Achievement Award. "Chicago is a wonderful business town. People in the Midwest are very solid. Food press from around the country are just more aware of Chicago now, and I think that can only help Chicago."
Famed TV personality Andrew Zimmern agreed. "This is a big city that wasn't always a food town. Twenty years ago no one would have said that this is one of the best food cities. And now it is in the conversation. This is one of the greatest food towns in the world!"
True enough! But as Chicagoans, we don't let this go to our heads. "Chicago, obviously, is one of the great food cities of the world. We take our food seriously, but not too seriously. We're really good at having fun. I think it is a reflection of the Midwest," said Eric Hansen, Food and Beverage Director at Groupon, after a long night at the Chef's Night Out dinner May 3rd.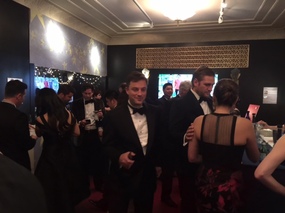 Stealing a selfie with Doug Sohn of Hot Doug's and cocktailing before the awards
"I hope that visiting chefs experience the diversity and depth of our culinary scene," Kevin Hickey, Food and Beverage Director for Rockit Ranch Productions told me while the red carpet was quickly moving into the overly crowded Lyric Opera building for the main event. "And having the awards here? That just ups everybody's game."
In addition to the excitement that everyone felt around the great exposure for the culinary community and the chance to host so many visitors in true welcoming, Chicago style, many chefs were quick to comment on the special relationship among Chicago chefs. "The Chicago chef community has such camaraderie. I can call any chef and ask how he/she is dealing with something. We build off each other," Executive Chef Jared Van Camp told me at a Kinmont pre-party on May 3rd. Many chefs have echoed this same sentiment to me over the years on my show, The Dinner Party. A success for one chef in Chicago is a success for the whole community.
In his acceptance speech for the Outstanding Restaurateur Award, a humble and warm Donnie Madia of One Off Hospitality said something similar regarding his team. "No one person is bigger than the whole. There are seven off us, not just one, and many, many others behind us." The Violet Hour, a One Off Hospitality establishment, also won for Outstanding Bar Program.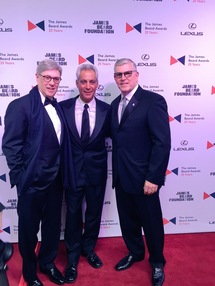 Andrew Zimmern (left) and Rich Melman, Mayor Rahm Emanuel and Don Welsh of Choose Chicago (right). Courtesy Nycole Hampton @msnycole
Everyone seemed to agree that changing the location of the awards for 2015 put new life into the ceremony. A May 2nd pre-party thrown by Chef Art Smith called 'Queer for Beard' and featuring a few outstanding drag queens probably best exemplified this! Although the contortionist at Frontera Gill and the dance floor at Girl and the Goat at May 4th after-parties didn't disappoint either.
"It is fun to come to the awards when you are driving down your own street, and you see all this excitement in front of your own restaurants. This is just lots of fun!" Michael Nahabedian said. His restaurant Brindille, along with designers Tom Nahabedian and James Gorski, won the award for Best Restaurant Design for Under 75 Seats.
Of course, it isn't really a surprise that Chicago chefs were over the moon to have the JBF Awards in town. But what did visitors think? "If you do anything for 25 years in a row it becomes like Groundhog Day," said Philip Colicchio, brother to TV personality Tom Colicchio, in a reference to the popular movie where the same thing happened again and again. "Seeing how Chicago has opened its arms and shown a different light on how to throw a party, all of us from New York go back refreshed and happy, and frankly, a little bit jealous."
Mission accomplished, Chicago!
The James Beard Awards will be back in Chicago for 2016 and 2017. Until then, many of us will just keep partying.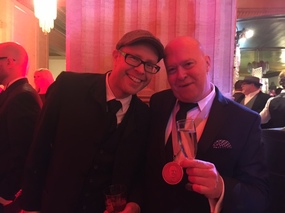 A huge cheesecake and the proud winners from The Violet Hour!
Share This!
Follow me
Subscribe to my podcast